Affordable Hotel Near Fisherman's Wharf in San Francisco, CA
Bring together the best of the Bay Area at our affordable hotel near Fisherman's Wharf in San Francisco, CA. For comfort, convenience, and savings, use our hotel deals and then use public transit from our hotel. Taking the BART into downtown San Francisco means you can leave your car behind at our hotel near Fisherman's Wharf and not worry about parking downtown.
As one of San Francisco's central attractions, there are a variety of ways to get to this hub. Fisherman's Wharf is actually the name of the neighborhood as a whole, located on the northern portion of the waterfront.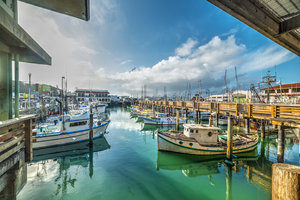 Pier 39
The essential part of a visit to Fisherman's Wharf is a stop at Pier 39! The pier is an adventure in its own right, featuring a hub of animals, tourist attractions, food, and spectacle. At K-Dock at Pier 39, crowds of sea lions bask in the sun, playing and barking to their friends. After you've gotten your fill of sea lions, enjoy the Pier's specialty shops and local crafts. All the while, it'll be hard to miss the street performers and musicians performing for free throughout the pier. Pier 39 has some of the best seafood around and you have to try a San Francisco signature: seafood chowder served inside a sourdough bread bowl.
Pier 39 is also home to a variety of museums and attractions like a Ripley's Believe it or Not Museum, a Wax Museum, the Musée Mécanique of penny arcade games, and more. It also has amazing views of some of San Francisco's iconic landmarks: Alcatraz and the Golden Gate Bridge.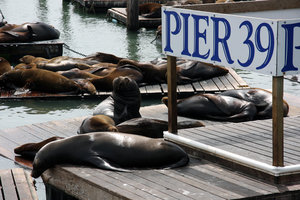 Visitor Information
Located between Ghirardelli Square and Pier 35, from Bay St. to the water, Fisherman's Wharf is just over an hour away by BART.
From our hotel, hop on the BART at the San Bruno Station, heading North towards the Embarcadero station. Next take the MUNI F-Line Streetcar from the Ferry Building to Fisherman's Wharf.
Learn more about the area by visiting their website.
See the sights and sounds of Pier 39 when you stay at our affordable hotel near Fisherman's Wharf in San Francisco with a host of complimentary amenities and cozy hotel rooms.