Hotel Near Pacifica State Beach
Stay at our hotel near Pacifica State Beach to enjoy the ease of our free shuttle to and from San Francisco Airport, as well as convenient access to these sandy shores just over the hill from San Bruno. This long crescent shaped beach is located right off of Highway 1, and marks the beginning of San Francisco's southern coastline. Enjoy a trip with it all at our hotel near Pacifica Beach, where you can find comfort and convenience at an unbeatable price!
Surfing For Beginners
Come to Pacifica State Beach for a dramatic shoreline sheltered by cliffs, beautiful nature, and dramatic sunsets. This crescent-shaped beach is perfect for beach-goers looking to relax on the sand or try some water sports! The water here is quite cold—but if you have access to a wetsuit, it's a great spot for beginner surfers. Pacifica is actually one of the most popular beginner surfing spots in California, so get your feet wet and hang ten!
Other points of interest on the beach? Stop by the world's most scenic Taco Bell for a wrap and view of the water.
If you're simply on your way through SFO Airport and just looking to get out into nature, Pacifica State Beach is an amazing resource! We offer complimentary shuttle service to the SFO airport, so you can spend your time enjoying the beauty of San Francisco instead of focusing on your transportation home. Step away from the city, enjoy the sunset, and still make it to your flight on time when you stay at our hotel near Pacifica State Beach!
Here are our top 3 ways to enjoy Pacifica State Beach itself and the surrounding area: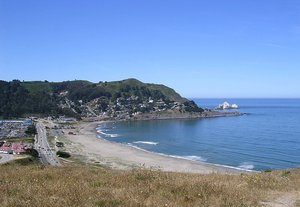 A Day at the Beach
It's a 20 minute drive from our hotel to Pacifica State Beach. Take the Paloma/Francisco Exit. At the beach, parking is by the hour. Once you're at the water, enjoy the beautiful view, stunning sunsets, and reconnect with nature on the sandy shores.
Visit Mori Point
Mori Point is next to Pacifica State Beach, close to our hotel and the airport. Mori Point is a bluff along the coast, and the park is comprised of 110 acres of rolling land and sweeping views. The park has a variety of trails which bring visitors to the rough coastline, where the waters crash into the cliffs. Enjoy a tranquil moment overlooking the Pacific Ocean at this hidden gem.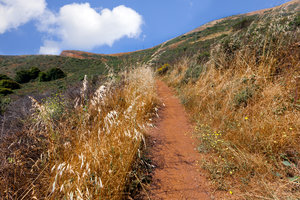 Hike Pedro Point
This easy hike is full of vegetation and wildlife over three miles of trails. The hikes meander around curves, with breathtaking views of the coast, waters, and Pacifica below. Start at the parking lot off Highway 1 (shared with the Devil's Slide Trail), and head out on your walk! You can rest afterwards at our hotel near Pacifica State Beach.